In its first decision, the Supreme Court of Iowa declared that Ralph, a slave from Missouri, was free from his owner. Although Iowa was technically always a "free" state, this decision set the precedent that nobody could hold another human being in servitude.
The following image shows the court's ruling.

Image Source: Iowa Courts
Having been born into slavery, Ralph's entire life, including his name, was tied to the institution of slavery. Originally named Rafe Nelson, Ralph's name was legally changed to reflect his master's. After some time, Ralph entered into a contract with Jordan Montgomery, his master at the time. The contract stipulated that Ralph could move to Iowa, and over time could purchase his freedom for a total of $550, with interest.
After Ralph had struggled to pay back his "debt," Montgomery, who was also strapped for cash, hired two men to return Ralph back to him. The men went before a justice of the peace, where they testified that he was a fugitive slave. They then travelled to Iowa, where Ralph was arrested. As they were transporting Ralph back to Missouri, they were stopped by Alexander Butterworth, a local farmer. Butterworth had seen the men take Ralph, and had gone and petitioned to Thomas Wilson, a judge on the Iowa Supreme Court, to prevent Ralph's return to Missouri.
After receiving the order from judge Wilson, Butterworth intercepted the two bounty hunters and Ralph, and brought them back to the Iowa Supreme Court in Dubuque. Counseled by David Rorer, a lawyer from Virginia, Ralph's case was the first to be heard by Iowa's highest court, which had only been founded a year earlier.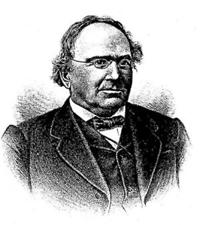 (Pictured: David Rorer) Image Credit: The Courier, Waterloo, Iowa
In their inaugeral ruling, delivered on Independence Day of 1939, declared that Ralph was a free man. Although they said that Ralph should repay the promised amount to Montgomery, they said that "it is a debt which he ought to pay, but for the non-payment of which no man in this territory can be reduced to slavery." The justices found that since Ralph had been allowed to relocated to and live in Iowa, a territory without slavery, he was completely emancipated by law. Their ruling also set the precedent that no individual could ever be held in involuntary servitude in the territory of Iowa, as such would be robbing said individual of their god-given humanity.
Additional Information:
The First Decision Rendered by the Supreme Court of Iowa
http://ir.uiowa.edu/cgi/viewcontent.cgi?article=7490&context=annals-of-iowa
"In the Matter of Ralph," Iowa Judicial Branch
http://www.iowacourts.gov/for_the_public/court_structure/iowa_courts_history/in_the_matter_of_ralph/index.asp
Iowa Supreme Court's First Case Freed a Slave
http://wcfcourier.com/news/local/iowa-supreme-court-s-first-case-freed-a-slave/article_01e79be3-e79f-51c9-a0cb-f4d37d8ed034.html